Upgrade your workspace game with a private office at VanCubers! Our fully furnished and secure private offices offer all the benefits of a traditional office, with the added bonus of a vibrant coworking community and unbeatable cost savings.
Say goodbye to the high costs of a downtown Vancouver office, and enjoy access to all the business amenities you need to work efficiently, including high-speed internet, mail and courier handling, and a reception desk. Plus, save over $500 just in utilities!
Our private offices are ideal for small and medium-sized businesses, entrepreneurs, freelancers, lawyers, software developers, graphic artists, and branch offices of larger corporations. And with our flexible rental options, you can choose the duration and size of your private office to best suit your needs.
Don't wait any longer to upgrade your workspace. Book a tour today and discover why VanCubers' private offices are the perfect solution for your business.
Book A Tour
Book A Tour Today!
You want to tap into all the advantages of co-working but would prefer a more private working environment, our dedicated office space rental is the ideal solution for short-term, long-term or temporary use. Our beautiful offices are configurable for any type of business. Come and see for yourself!
No hidden fees, no membership charges and no surprises! Just one great community, committed to everyone's mutual success. 
Book A Tour
* What are the Office Hours?
Private office tenants will enjoy 24/7 access to the office with the ability to disarm the alarm and use a building fob for entry at any time. Additionally, they will have the convenience of ordering food to the office and buzzing in delivery personnel directly.
On the other hand, shared space tenants will have access to the office during regular business hours, which are from Monday to Friday, 9:00 AM to 5:00 PM.
At VanCubers, we prioritize the needs and convenience of our tenants, offering them tailored solutions to meet their unique needs. Whether you need 24/7 access to your private office or access to shared spaces during business hours, we've got you covered.
Mailbox Rental
Need an office address without the need for an office?
VanCubers offers virtual office solutions for your business. Have a commercial address to put on your business cards, website and give it out to your customers, google and the government.
Sign up now to have your very own mailbox in the heart of downtown Vancouver.
Mailbox Rental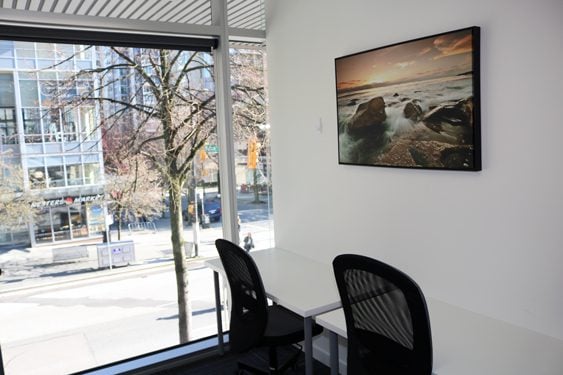 Initial commitment is 3-months follow by a month-to-month term.
Prestigious downtown Vancouver address, conveniently located at Seymour & Nelson

High ceilings, air conditioned, windows all around with lots of natural light

Utilities covered: electricity, water, heating and air-conditioning

Business mailing address & package receiving (Basic Mailbox)

High-speed wired/wireless internet (2.5 Gbps total, 1 Gbps max per Wifi 6 or wired client)

Network Isolation available upon request

Lockable door & Secure Office Storage

Unlimited B/W printing/photocopying/scanning/fax

Full kitchen facilities (fridge, microwave, dishwasher, filtered water, coffee machine & toaster oven)

All day Free Coffee & Tea

Bike Storage (First come- first served for 24/7 option)

Includes 10 hours per month Boardroom booking

Discount on Boardroom bookings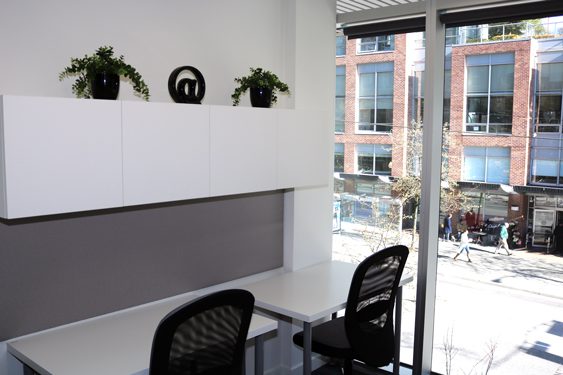 PLANS & RATES
Flexible & Affordable Workspaces
We have something for every budget; Day pass, single person workstation or teams, private offices and meeting rooms. Learn more about our packages and benefits.
PLANS & RATES
Why you need a private office @ VanCubers
While coworking can be fantastic for serendipitous connections and collaborating with like-minded individuals, sometimes you need a workspace you can call your own. If that's the case, private office space rental with VanCubers is the solution you've been looking for.
With no commitment or long-term contract to sign, our dedicated office space is yours for however long you need it. This is an ideal solution for a short-term office space rental, perhaps while your main office is temporarily over capacity and you need a private space to work effectively.
Whether you're working on a project in Vancouver or simply prefer a private office space, VanCubers has you covered. Our private office space in the heart of downtown Vancouver provides you with all the office infrastructure you need, including reliable, ultra high-speed internet and access to printing, scanning, photocopying, and faxing services.
As with your own private downtown office, renting a private office space with VanCubers includes the services of our live receptionist, mailbox rental, and bike storage. Our front desk will happily accept courier deliveries and regular mail on your behalf, including paying for any customs or duties in advance so you never miss a shipment.
If you need more space than what your private office can provide, you can book our meeting rooms to host team meetings, client meetings, interviews, sales presentations, workshops, or whatever else you may need.